Sausage and Cabbage Soup Recipe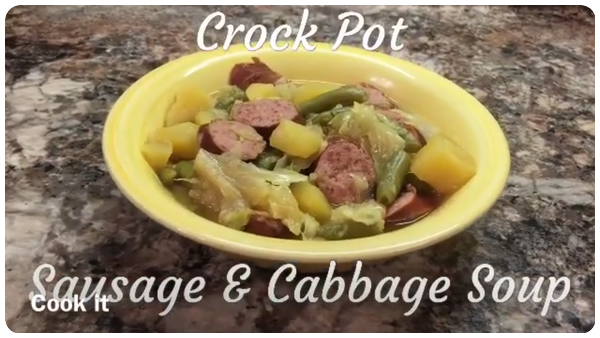 Sausage and Cabbage Soup Recipe
Ingredients:
1  48oz. box Chicken Broth or Stock
6 medium Yellow Potatoes
1/2 Yellow Onion, chopped
1 Chicken Bouillon Cube
2 14oz. Pkgs. Smoked Sausage, sliced
1 Head Cabbage
1 28oz. Can Green Beans, drained
Directions:
Add Chicken Broth/Stock to crock pot and set on high. Peel and cube Potatoes, rinse and add to broth. Chop Onion and add to broth. Add Bouillon Cube and stir. Slice Smoked Sausage into bite size pieces, add to broth and stir. Cut Cabbage into 8ths, remove core. Break up wedges and add to broth and stir to tuck Cabbage in as much as possible. Cover and cook 3-4 hours or until veggies are tender. Add Salt and Pepper to taste and stir.  Add Green Beans and stir well. Cook for an additional 10 minutes and serve.