Chicken Pot Pie Casserole Recipe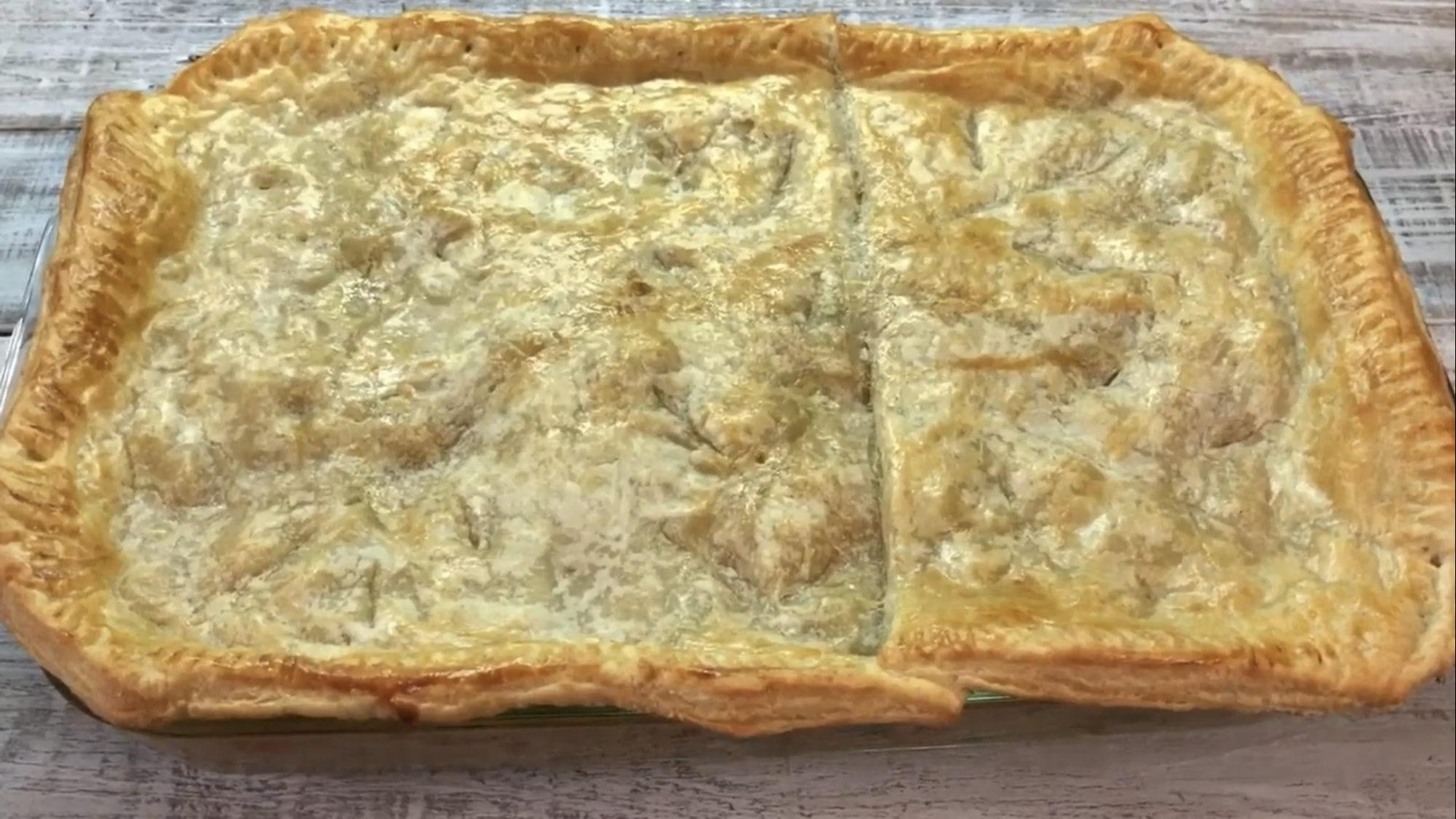 Chicken Pot Pie Casserole Recipe
Ingredients:
3-4 Tbsp Oil
1 1/2 Lbs Chicken Tender Cutlets
22.6 oz Cream of Chicken Soup
1 – 16oz Bag of Mixed Vegetables
1 2/3 Sheets of Puffed Pastry, thawed
1 Egg whisked well for egg wash
Pasta:
1 Tbsp Salt
1 Tbsp Oil
1 – 12oz bag of Egg Noodles
Directions:
Preheat oven to 400 degrees. Spray a 9″ x 13″ casserole dish and set aside. Add oil to large deep skillet and set on medium high heat. Place Tenders in hot skillet and season with half of the Salt, Pepper, Garlic Powder and Onion Power and cook for 3 to 4 minutes.

Flip Tenders over and season 2nd side with remaining

Salt, Pepper, Garlic Powder and Onion Power and cook for 2 to 3 minutes

or until tenders are completely cooked.

Remove Tenders, loosely cover with foil and set aside. While Tenders are cooking add water, salt and oil to large pot

and bring to a boil. Add Egg Noodles to boiling water and cook until desired tenderness and drain.

After removing tenders from skillet, add Chicken Broth and stir to de-glaze pan. Add Cream of Chicken Soup and whisk until well combined. Cut Chicken Tenders into bite size pieces, add to skillet and mix well. Add mixed vegetables and stir. Pour mixture into casserole dish. Cover casserole with single layer of Puffed Pastry and cut excess off of corners with kitchen shears or knife. Next use a fork to crimp edges of the Puffed

Pastry

. Cut slits into Puffed Pastry to vent. In small bowl whisk egg. Using a basting brush, brush top of pastry with Egg wash. Place casserole in oven and bake for approx 15 minutes or until top is golden brown. If edges are browning too much before pastry is fully cooked, cover entirely with foil and return to oven and bake until pastry is baked completely. Remove from oven, uncover and let rest for 4-5 minutes before cutting to serve. Enjoy!