Cheesy Roasted Red Pepper Pasta Recipe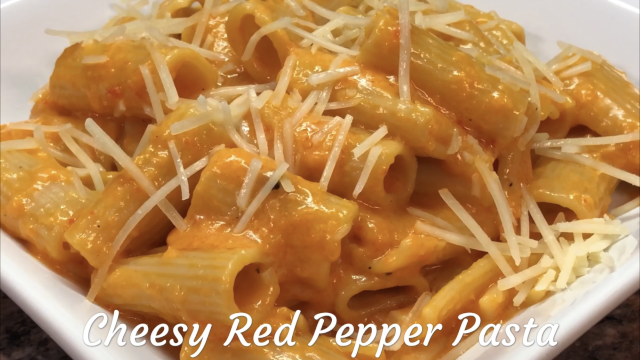 Cheesy Roasted Red Pepper Pasta Recipe
Ingredients:
1/2 Onion Diced
4 Tbsp Butter
4 Tbsp EVOO
2 Cloves Garlic Roughly Chopped
1 – 16oz or 19oz Jar Roasted Red Peppers
1 Cup Chicken Stalk / Broth
1/2 Cup Heavy Cream
1 Cup Shredded Parmesan Cheese
2 Tbsp Red Wine Vinegar
Salt and Pepper to taste
Pasta:
1 Tbsp Salt
1 Tbsp Oil
1 – 16oz box of Rigatoni Pasta
Directions:
Fill large pot 3/4 full of water, add salt and oil
bring to a boil. Add Pasta to boiling water and cook until desired tenderness, and drain, reserving approx 1 cup of pasta water and set aside. Dice Onion and Roughly chop Garlic and set aside. Set deep skillet to medium high heat add Butter and melt. Add Oil and Onion to skillet and saute until Onions are tender. Next add Garlic to skillet and saute for 1 minute. Add Roasted Red Peppers and saute 2 to 3 minutes. Add mixture to blender and blend until smooth. Return blended mixture back to skillet, add Broth and stir well. Add Heavy Cream and whisk until combined. Add Cheese whisk until melted. Add Red Wine Vinegar and whisk. Saute for 1 to 2 minutes then add pasta and toss to thoroughly coat. If preferred add desired amount of reserved pasta water to thin sauce. Add Salt and Pepper to taste, top with Parmesan Cheese and Enjoy.