Creamy Spinach and Mushroom Pasta Recipe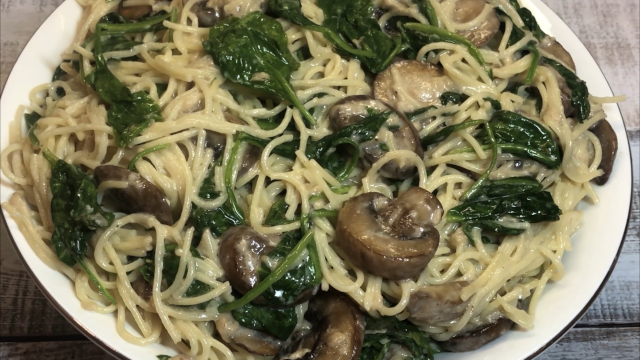 Creamy Spinach and Mushroom Pasta Recipe
Ingredients:
1 Tbsp Butter
1/2 to 1 whole Shallot
16 oz pkg Sliced Baby Bella Mushrooms
1 Garlic Clove Grated
1/2 Cup White Wine
Pasta Water
Salt to taste
Pepper to taste
1 Cup Heavy Cream
1/2 Cup Shredded Fontina Cheese
1/2 Cup Vermont White Cheddar Cheese
1/2 Cup Parmesan Cheese
1/2 Cup Romano Cheese
13.25 oz Bag of Fresh Baby Spinach
Pasta:
1 Tbsp Salt
1 Tbsp Oil
1 – 16oz box of Angel Hair Pasta or pasta of choice
Directions:

Fill large pot 3/4 full of water, add salt and oil bring to a boil. Add Pasta to boiling water and cook until desired tenderness, drain, reserving a portion of pasta water and set aside.

Mince Shallot and set aside.

In large deep skillet on medium high heat melt Butter, add Shallot and Mushrooms. Stir and cook 1 to 2 minutes. Grate in Garlic Clove and stir well. Add White Wine and stir cooking for 1 to 2 minutes. Add enough pasta water to reach desired consistency. Add Salt and Pepper to taste and stir. Add Heavy Cream and stir well. Reduce heat to medium and add Fontina, Vermont White Cheddar, Parmesan and Romano Cheese's and stir well. Add More pasta water if needed. Add drained Pasta and toss to coat. Add Spinach cover and cook until slightly wilted then toss to coat. Enjoy.