Tropical Banana Bread Recipe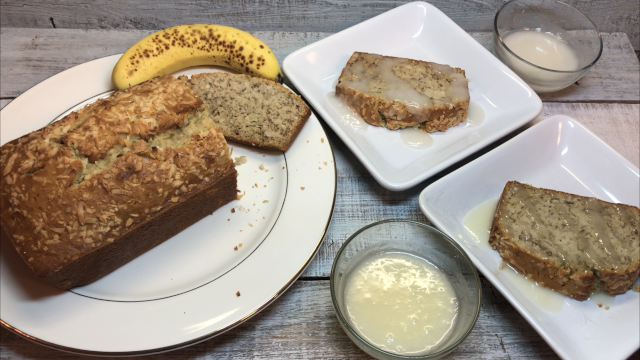 Tropical Banana Bread Recipe
Ingredients:
Bread:
1/2 Cup Sweetened Coconut Flakes
Kid Friendly Glaze: 
1 1/2 Tbsp Pineapple Juice
Adult Glaze:
Directions:
Preheat oven to 350 degrees. Spray cake pan and set aside. Mash Banana's and set aside. In medium bowl add Flour, Baking Soda and Salt, whisk well and set aside. In mixing bowl add Sugar, Softened Butter, Eggs, Vanilla Yogurt, Butter Shots, Coconut Milk, Vanilla Extract and mix well scraping down sides to completely mix. Add 1/2 of the Flour mixture and mix well. Once mixed add second half of Flour mixture and mix well. Add Coconut Flakes and combine. Add Smashed Banana's and mix well. Pour into bread pan and level out. Sprinkle with Coconut flakes. Bake for approx 60 minutes or until toothpick comes out clear. 
Kid Friendly Glaze Direction's
In medium bowl sift Powdered Sugar. Add Coconut Milk and Pineapple Juice and mix well. Drizzle on bread and enjoy. 
Adult Glaze Direction's 
In medium bowl sift Powdered Sugar. Add Coconut Milk and Butter Shots and mix well. Drizzle on bread and enjoy