Grandmas Chicken Noodle Soup and Dumplings Recipe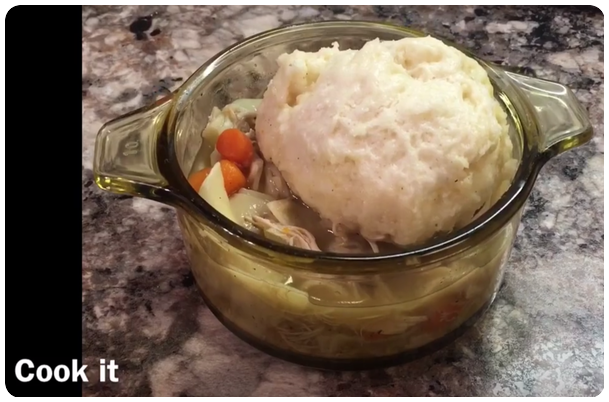 Grandmas Chicken Noodle Soup and Dumplings Recipe
Ingredients:
2- 32oz. Containers of Chicken Broth or Stock

3- Bay Leaves1/2 Tsp. Poultry Seasoning3- Celery Stalks, chopped1- Cup Chopped Carrots 1- Rotisserie Chicken, deboned & skinned 1- Tsp. Salt 1/2 Tsp. Pepper1- 12oz. Pkg. Dumpling or extra wide Noodles
Dumplings:
2 1/4 Cups Bisquick
3/4 Cup Milk
Directions:
Add Chicken Stock/Broth, Bay Leaves and Poultry Seasoning to large pot. Chop Celery and Carrots and add to pot. Stir well and cook on medium heat. Skin and de-bone Chicken, add to pot, stir and cook for 1 hour. Remove all Bay Leaves and add Salt & Pepper and stir. Add Egg Noodles, stir and cook 8-10 minutes. Add Bisquick and Milk to medium size bowl, mix well. Bring soup to a boil and drop in dumplings by spoonful's into soup and cover. Cook 3-5 or until dumplings are no longer doughy but still slightly tender. Be sure to occasionally stir soup while dumplings are cooking but try not to disturb dumplings.