Mini Barbecue Meatloaf Recipe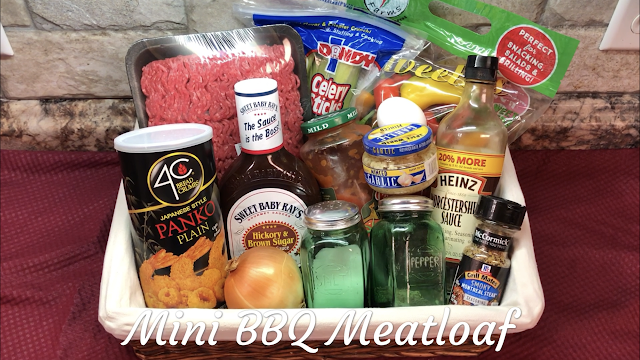 Mini Barbecue Meatloaf Recipe
Ingredients:
2 1/4 Lbs Lean Ground Beef
2 Cups of your favorite Hickory BBQ Sauce 
1 Tbsp Worcestershire Sauce
2 Tbsp of your favorite Grill Seasoning
2 Stalks of Celery, Diced
Directions: 
Preheat oven to 450 degrees. Spray two 12 count muffin pans. In large bowl add Lean Ground Beef. In small bowl add Egg and Milk and whisk together and set aside. Chop Celery, Onions and Peppers making sure to remove the Ribs and Seeds from the Peppers.  Add 1 Cup of BBQ Sauce, Salsa, Worcestershire Sauce, Egg and Milk Mixture, Minced Garlic and Panko Bread Crumbs, Grill Seasoning, Sweet Peppers, Onions and Celery to bowl with the Hamburger.  Using your hands mix well to combine. Using ice cream scoop fill each individual muffin cup and top with the reserved 1 cup of BBQ Sauce. Place pans in oven and bake 20 minutes or until cooked thoroughly. Enjoy.