Creamy Tiramisu Recipe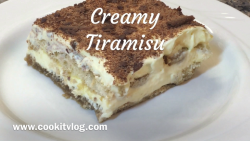 Creamy Tiramisu Recipe
Ingredients:
6 Egg Yolks
1/3 Cup of Sugar
1 1/2 Cups of Espresso, cooled
16 oz Mascarpone Cheese
1 1/2 Tbsp Amaretto or Dark Rum
2 Packages of Lady Fingers
Coco Powder & Chocolate shavings for garnishing
Directions: 
Separate 6 Eggs and put yolks in mixing bowl, egg whites can be kept in refrigerator and used later for Omelets, Meringue and other recipes. Add Sugar and whisk until thick and pale yellow approx. 5 minutes, scraping bowl down as needed. In a separate bowl add Amaretto to Espresso and whisk to combine. Add Mascarpone to Egg Yolk mixture and whisk until creamy, scrapping bowl as needed. Add 1 Tbsp of Espresso and mix to combine. In a 13″ x 9″ baking dish or smaller for thicker layers, dip Lady Fingers in Espresso and line bottom of dish. You can also line the baking dish and brush or spoon on the Espresso to better control the amount of liquid. Take half of Egg mixture and spread evenly on layer of lady fingers, complete each layer following these steps ending with a layer of Egg Mixture on top. Dust with Coco Powder and sprinkle with Chocolate shavings. Cover with plastic wrap and refrigerate for at least two hours before serving. Enjoy!