Cheesy Chicken Spinach Soup Recipe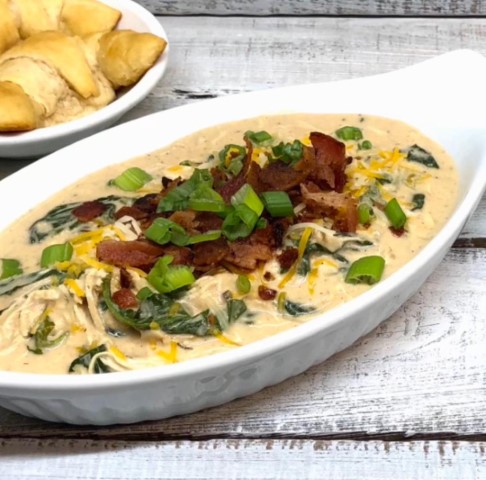 Cheesy Chicken Spinach Soup Recipe
Ingredients:
3 Garlic Cloves Minced
1 medium Onion Diced
3 Scallion Tops Chopped
6 Strips of Bacon
1 TBSP Butter
6 Cups of Low Sodium Chicken Broth
1/2 tsp Onion Powder
1/2 tsp Garlic Powder
1/2 tsp Dill
1/4 tsp White Pepper
1/2 tsp Dried Chives

2 Boneless Chicken Breast Fillet in half
8 oz Cream Cheese
1 1/2 Cups Shredded Sharp Cheddar Cheese
1/4 Cup Heavy Cream
5 Cups of Spinach

Directions:
Mince 3 Garlic Cloves and set aside. Dice 1 medium Onion and set aside. Chop the tops of 3 Scallions and set aside. Place large deep pan on Medium high heat, fry up 6 strips of Bacon remove and set aside. In same skillet on medium heat add Butter, diced Onion. Minced Garlic and Cook until they become translucent. Add 4 cups of Chicken Broth mix and then add Onion Powder, Garlic Powder, Dill, White Pepper, dried Chives and Salt to taste Add Chicken Breast and and Bay Leaf, cook on medium heat for 10 minutes. While chicken is cooking crumble Bacon and set aside. Flip Chicken over and cook another 10 minutes. Remove Bay Leaf and Chicken setting it on a cookie sheet. Add last 2 cups of Chicken Broth. Using two forks shred chicken and set aside. Add Cream Cheese, Cheddar Cheese and Heavy Cream. Cook on medium heat stirring frequently until cheeses melt. Add Shredded Chicken and mix well. Add Spinach, sttir and cook until Spinach is mixed in well.