Smothered Meatloaf Recipe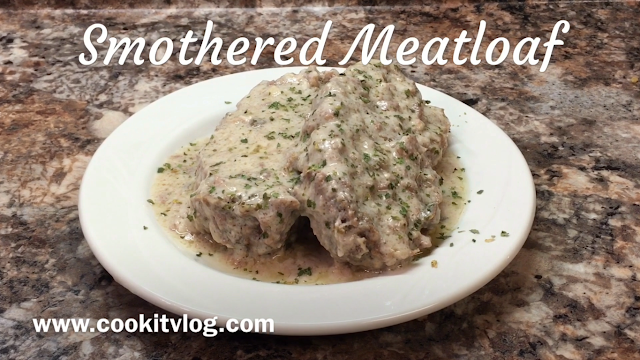 Smothered Meatloaf Recipe
Ingredients:
1 1/2 lbs Ground Pork
1 lbs Ground Beef 
1/2 Cup Seasoned Bread Crumbs
2 Tbsp Dry Minced Onions
1/2 tsp Garlic Salt
1/2 tsp Salt
1/4 tsp Pepper
1 Tbsp Worcestershire 
1 Tbsp Red Wine Vinegar
1 Egg, Beaten
1 Crushed Garlic Clove
1 – 10 1/2 oz Cream of Mushroom Soup
1 Cup of Milk
Fresh or dried Parsley
Directions:
Preheat oven to 350 degrees. In large bowl combine Ground Pork, Ground Beef, Bread Crumbs, Dry Minced Onions, Garlic Salt, Salt, Pepper, Worcestershire , Red Wine Vinegar, Beaten Egg and Garlic Clove. Once well combined form into a loaf shape and place in a deep greased baking dish. In a medium bowl whisk together Mushroom Soup and Milk. Pour Mushroom soup mixture over Meatloaf.  Cover Meatloaf with Tinfoil and bake for approx 45 minutes or until juices run clear after piercing with a knife. Once plated sprinkle with Parsley and Enjoy!
Follow us on social media