No Sweat Chicken Scampi Recipe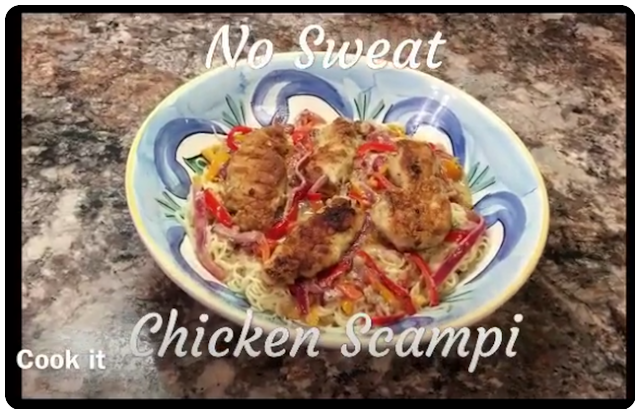 No Sweat Chicken Scampi Recipe

Ingredients:
1/2 Lb. Pasta of choice – I recommend Angel Hair
Breading for Chicken:
1 Cup of Milk
1 Cup of Flour
1/2 Tsp. Salt
1/2 Tsp. Pepper
1-2 Lbs. of  Boneless Skinless Chicken Breast Tenders
Sauce:
6-9 Sweet Peppers, Julienned
1/2 Red Onion
1 Clove of Garlic
7 Tbsp. Extra Virgin Olive Oil
1 Tbsp. Salt plus a little more for taste
1 Cup White Wine
3/4 Cup Heavy Cream
1/2 Cup Italian Dressing
1/2 Tsp. Garlic Salt
1/4 Tsp. Italian Seasoning
Pepper to taste
Directions:
Prepare two bowls for dredging chicken as follows,  Add milk to one bowl and set aside. To second bowl add Flour, Salt and Pepper and whisk to combine. If using Chicken Breast cut Chicken into tenders and begin double dredging by dipping tenders into milk, then dry ingredients and repeat covering each tender twice. Place tenders on wire rack to rest. Be sure to add a piece of parchment paper under rack. 
While tenders are resting Julienne Sweet Peppers, thinly slice red onion, and chop Garlic and set aside.  Next add 3 Tbls. EVOO to hot deep skillet, set at medium high heat. Add Peppers, Onion and Garlic to skillet, cook 3 to 4 minutes, or until slightly tender. Add Salt and Pepper to taste and remove veggies and set aside. 
Add 3 additional Tbls. of EVOO to hot skillet and add Chicken Tenders. Cook 3 to 4 minutes per side. When Tenders are fully cooked, remove from skillet, cover with foil and set aside. 
Add 1 Tbls. Salt and EVOO to Pasta water and prepare as directed on package. 
Add White Wine and scrape hot skillet to deglaze. Add Heavy Cream & Italian Dressing and stir to combine.  Next add Garlic Salt & Italian Seasoning stir well and cook until slightly reduced. Add Veggies to sauce and stir to coat. Add Salt and Pepper to taste. Reduce heat to simmer. When Pasta is tender drain and top with Sauce and Chicken. 
 

 

 

Follow us on social media