1 Amazing Beef Cheese Enchiladas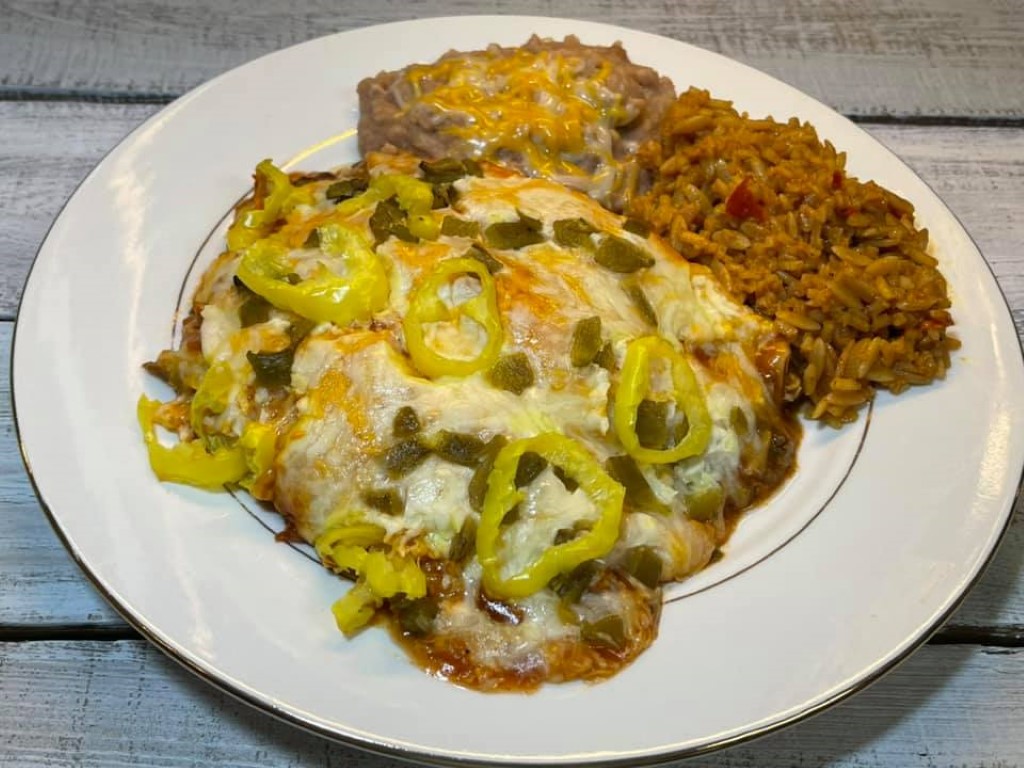 Beef Cheese Enchiladas
Ingredients:
1/2 TBSP Ground Cumin
2 TBSP Chili Powder
1 1/2 tsp Garlic Salt
1 1/2 tsp Onion Powder
2 1/4 tsp Paprika
Cayenne Pepper (to taste)
1/2 tsp Ground Black Pepper
Salt to taste
Black Pepper to taste
Garlic Salt to taste
1 lb Lean Ground Beef
10 – 8″ Soft Tortilla Shells
28oz Red Enchilada Sauce
4.5 oz Can Green Chilies
12 oz Mild Banana Ring Peppers
1 1/2 Cup Shredded Fiesta Cheese
1 Cup Shredded Queso Cheese
Directions:
How to make a Beef Cheese Enchiladas.Preheat oven to 350 degrees. Spray 13″ x 9″ baking dish and set aside.  In a small bowl add ground cumin, chili powder, garlic salt, onion powder, paprika, cayenne pepper and ground black pepper and whisk to combine then set aside. In large skillet fry ground beef, add salt, pepper and garlic salt to taste. (If your using lean ground beef no need to drain). Once cooked add dry mixture from small bowl to ground beef and 1 cup of water, mix well.  Next place a large spoon full of the cooked ground beef in a tortilla shell and top with cheese. Using a basting brush, brush the edge of the shell with Red Enchilada Sauce to stick together and place in the baking dish. Complete this process until you have all ten in pan. Cover all of the Enchiladas with the remaining Red Enchilada Sauce. Top with Fiesta Blend Cheese, Queso cheese, Green Chilies and Banana Ring Peppers. Bake for 20 minutes or until the cheese is completely melted and the top is a golden brown. Enjoy.
Here is some other tasty Casseroles your family may enjoy.
Cheesy Bacon Veggie Casserole recipe (Here)
Deconstructed Stuffed Pepper Casserole (Here)
Chicken Pot Pie Casserole Recipe (Here)
Crockpot Cheesy Barbecue Casserole (Here)
Green Bean Casserole (Here)
Breakfast Casserole French Toast Casserole Recipe (Here)

Be sure to follow us on:
Youtube (Here)
Facebook (Here)
TikTok (Here)
Pinterest (Here)

Follow us on social media