Crockpot Cheesy Beer and Bacon Soup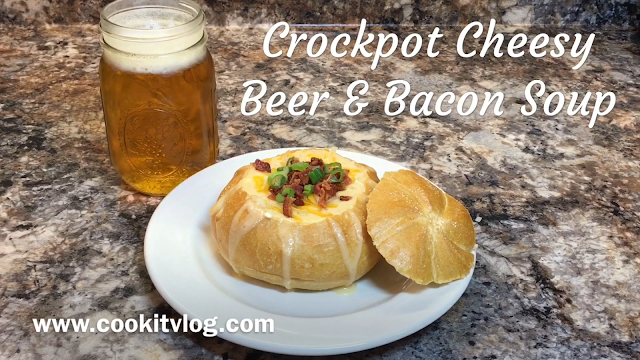 Crockpot Cheesy Beer and Bacon Soup

Ingredients: 
2 Stalks of Celery, Finely Chopped
2 Medium Carrots, Finely Chopped
1 Cup of Heavy Whipping Cream
4 Oz of Cream Cheese, Softened
4 Cups of Vermont White Cheddar Cheese, Shredded
4 Cups of Shape Cheddar Cheese, Shredded
Directions
Set Crockpot to high. In a small bowl whisk together Butter and Flour and add to crockpot. 
Chop Celery and Carrots, add to crockpot and mix well.  Add Chicken Stock and whisk to combine.  Fry Bacon until crispy and set aside on paper towels to cool. Add Salt, Pepper, Garlic Powder, Onion Powder, Dry Mustard, Worcestershire and mix well. Crumble Bacon and add to crockpot reserving some for topping. Add Beer and mix well. Cover and cook for 2 hours stirring occasionally.  Finely chop two green onions and set aside for topping. In large bowl combine Cheddar Cheeses and toss together. In separate small bowl reserve a portion of the Cheddar Cheeses and set aside for topping. After two hours add Heavy Cream and Cream Cheese and mix well. Add Cheddar Cheeses and stir to combine. Cover and cook an additional 1 1/2 hours or until all cheeses have melted and soup has thickened. Ladle into Bread or soup bowls, top with Cheese, Bacon and Green Onions. Enjoy!