Hearty Crock Pot Beefy Beer Stew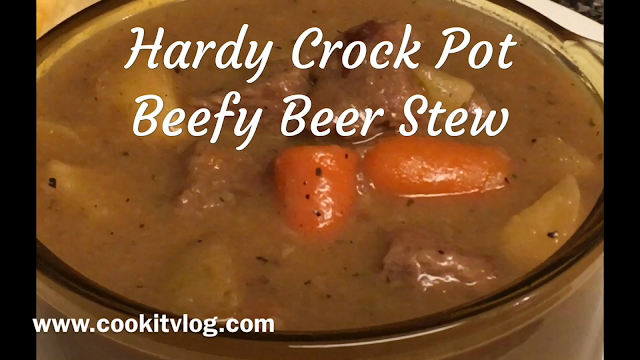 Hearty Crock Pot Beefy Beer Stew
Ingredients:
1 Cup Flour
1/2 Tsp Salt
1/2 Tsp Black Pepper
1/2 Tsp Garlic Salt
1/2 Cup Oil
2 1/2 Lbs of Beef Stew Meat 
1 Tbsp Minced Garlic
2 Boxes of Beef Broth
1 12oz can of your favorite Beer
2 Pkgs Brown Gravy Mix
1 Pkg of Dry Ranch Dressing Mix
1 Pkg of Dry Italian Dressing Mix
1 1/2 Lbs of Small Yellow Potatoes
1 Lb of Baby Carrots
Thickening Mixture:
1/4 Cup of Flour
1  1/2 Tbsp Corn Starch
1/4 Tsp Salt
1/8 Tsp Pepper
3/4 Cup of Milk or Heavy Whipping Cream



Directions:
Set Crock Pot on high. In bowl add Flour, Salt, Pepper and Garlic Salt then whisk together. Add Oil to deep Skillet and set on High. Add Stew Meat to Flout mixture coating well on all sides. add Stew Meat and any remaining flour to skillet and cook until browned. After Stew Meet begins to brown add Minced Garlic. Add Stew meat to Crock Pot. Deglaze Skillet with Broth  and add drippings to Crock Pot. Add the remaining Broth, Beer, Brown Gravy Mix, Ranch Dressing Mix  and Italian Dressing Mix to Crock Pot. Stir well to blend all ingredients. Cut and quarter Potatoes into bit size pieces, rinse and add to Crock pot. Cut Carrots into bite size pieces, rinse and add to Crock Pot. Cover and cook on high for approx. 6 to 8 hours or until desired tenderness stirring occasionally while cooking. 
To thicken if desired, after cooking approx 4 hours add Flour, Corn Starch, Salt, Pepper and Milk / Heavy Whipping Cream to bowl. Whisk together and add to Crock Pot. Mix well, cover and cook the remaining 2 to 4 hours.

Follow us on social media