Turkey in a Brown Bag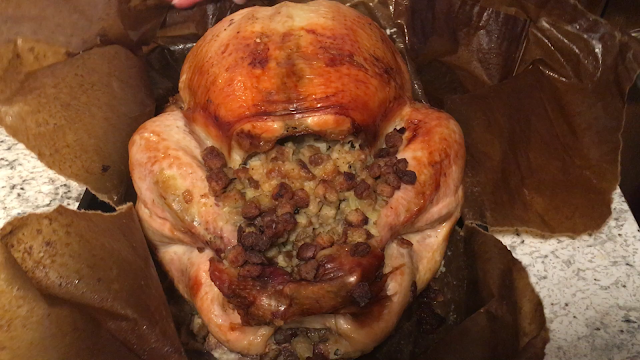 Turkey in a Brown Bag

Ingredients:
1 Plain Brown Paper Bag
1 Fresh Turkey 
Prepared Stuffing, Cooled
2 Sticks of Softened Butter
2 Boxes of Turkey or Chicken Broth / Stock
Salt
Stapler to seal bag
Directions:
Preheat oven to 325 degrees. Butter entire inside of bag thoroughly, leaving no dry spots. Heavily Salt entire inside of the buttered bag and set aside. Line counter top work area with Parchment, Wax or Butcher Paper.  Remove Giblets and Neck, rinse with cool water, add to small sauce pan, cover with broth and cook on low covered until Turkey is done. Add additional liquid as needed. Rinse Turkey thoroughly with cool water and drain well. Thoroughly pat dry Turkey (this will allow the butter to stick to Turkey). Place Turkey on covered surface area and stuff both openings with cooled prepared stuffing then coat thoroughly with softened Butter covering all areas.  Be sure to tuck wings behind Turkey and also cover with Butter.  Salt all areas of Turkey thoroughly and place inside of Buttered brown bag with legs facing opening.  Staple bag opening shut remembering to place staples close together to get a good seal. Place rack inside roasting pan and add broth / stock to pan to approx. 1 inch deep.  Place bagged Turkey on rack in Roasting Pan and put in oven on lower level.  Bake according to Turkey size. Be sure to check and add additional liquid as needed.  Enjoy!
Be sure to check out these other tasty recipes to make during Thanksgiving and Christmas 
Creamy Mashed Potato Recipe https://cookitvlog.com/buttery-creamy-mashed-potatoes-101-recipe/
Sweet Potatoes and Butternut Squash Casserole Recipe https://cookitvlog.com/candied-sweet-potatoes-and-butternut-squash/
Green Bean Casserole Recipe https://cookitvlog.com/green-bean-casserole/
Green Bean Almondine Recipe https://cookitvlog.com/smokey-green-bean-almondine-recipe/
Delicious Deviled Egg Recipe https://cookitvlog.com/deviled-egg-recipe/
Easy tasty Cheesecake recipe https://cookitvlog.com/how-to-make-a-delicious-cheese-cake-recipe/
Boozy Eggnog Custard Pie recipe https://cookitvlog.com/eggnog-custard-pie-recipe/
Pumpkin Pie recipe https://cookitvlog.com/pumpkin-pie-101-recipe/
Holiday Rice Pudding Recipe https://cookitvlog.com/creamy-holiday-crockpot-rice-pudding-recipe/
Puppy Chow Holiday Treat https://cookitvlog.com/puppy-chow-recipe/

Follow us on social media