Smothered Steakhouse Cheeseburger Recipe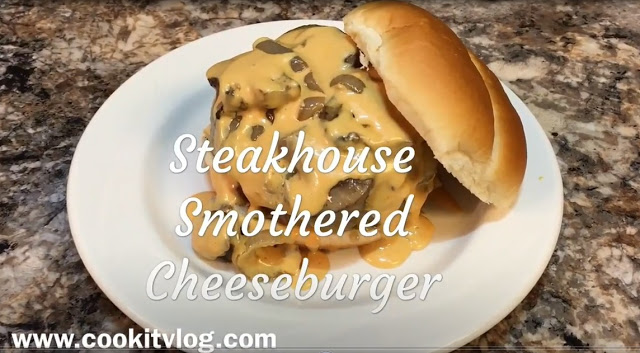 Smothered Steakhouse Cheeseburger Recipe 
Ingredients:
Burgers
1 Pkg Dry Ranch Dressing Mix
2 1/4 Lbs Lean (93/9) Ground Beef or Turkey
Pepper (To Taste)
Garlic Salt (To Taste) 
Munster Cheese or Cheese of choice
Hamburger Buns
Cognac Sauteed Mushrooms & Onions 
1 Stick of Butter
1 large Onion
1 1/2 Tbs Minced Garlic
1/4 Cup of Cognac 
1 Large Pkg of Sliced Baby Bella Mushrooms
Garlic Salt (To Taste)
Pepper (To Taste)
Salt (To Taste)  
Creamy Steak Sauce
1 Cup of Mayo 
1/2 – 3/4 Cup of 57 Steak Sauce

Directions: 
In a large bowl add Hamburger, Ranch Dressing and mix well. Divided into 6 sections to create 6 Hamburger Patties.  Press thumb in the middle of each patty to reduce shrinkage during cooking. Cook on a grill to desired  likeness. When nearly done, place cheese on burger and let melt. While burgers are cooking slice onion and set aside.
On medium-high heat add Butter to deep frying pan. Add onions and cook for 1 minute. Add Minced Garlic and stir. Add Cognac and mix well. Add mushrooms cook for 1-2 minutes then season with Garlic Salt, Salt and Pepper to taste. Cook until Mushrooms and Onions become fork tender. 
While Onions and Mushrooms are cooking in a small bowl whisk together Mayo and Steak Sauce and set aside. 
Place Cheeseburger on a bun, top with Mushrooms and Onions then smother with sauce. Enjoy!

Follow us on social media