Chicken Parmesan Recipe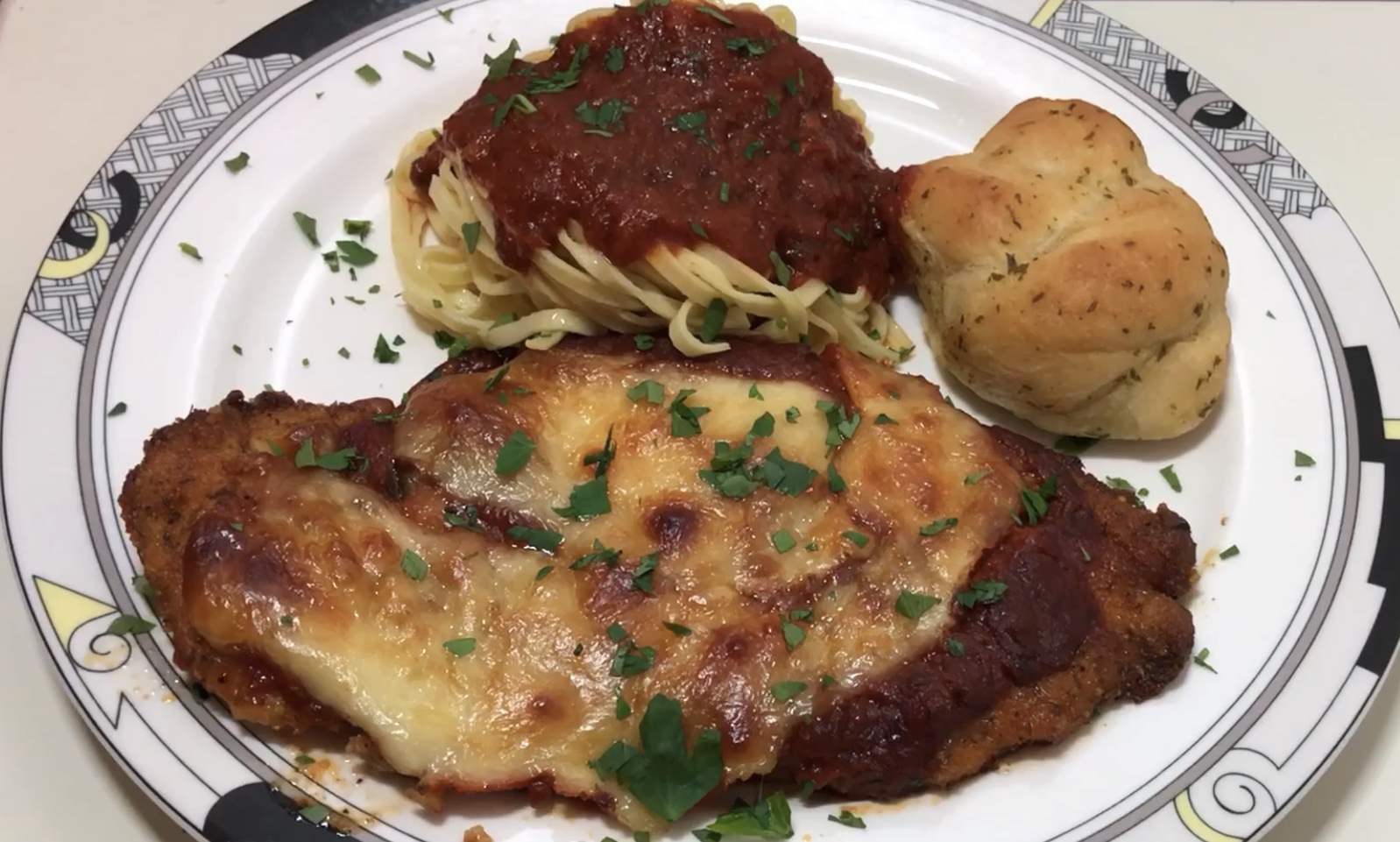 Chicken Parmesan Recipe
Ingredients:


4 Boneless, Skinless Chicken Breast (butterflied and cut in half)




3 Eggs




1/2 cup Heavy Cream




2 Cups of Flour




1/2 Tbsp White Pepper




1 Tbsp Onion Powder




1 Tbsp Garlic Powder




1 Tsp Garlic Salt




1 Tsp Salt




3 Cups Italian Bread Crumbs




1 Tsp Basil




1 Tsp Oregano




2 Tbsp Parsley




1 Cup grated Parmesan Cheese




3 Cups of Oil




1 Lb Fresh Mozzarella Cheese





Directions:


Pre-heat oven to 350 degrees. Spray 2 to 3 – 13″ x 9″ baking dishes and set aside. Butterfly each chicken breast and cut in half. (This recipe makes 8 serving's. If desired reduce all ingredients in half to service 4) Place each individual chicken breast between two sheets of plastic wrap and flatten evenly to 1/4″ thickness. Place Eggs in medium size bowl and whisk well. Add Heavy Cream and whisk until well combined and set aside. In separate medium size bowl add Flour, White Pepper, Onion Powder, Garlic Powder, Garlic Salt and Salt and whisk until well combined. In third large bowl add Bread Crumbs, Basil, Oregano, Parsley and Parmesan Cheese and mix until well combined. In large deep skillet set on medium high heat and add oil. Dredge each cutlet first in flour mixture 2nd in egg mixture and finally in bread crumb mixture pressing bread crumb mixture on cutlet to thoroughly coat each side. Once oil in skillet reaches 325 to 350 degrees place breaded cutlets in skillet and fry approx 30 seconds per side just enough to brown. Remove browned cutlets from skillet and place on multiple layers of paper towels for appox 1 to 2 minutes to absorb extra oil. Remove from paper towels and place in baking dish in a single layer and bake for 25 minutes. Top each Chicken Breast with your favorite Marinara Sauce and fresh Mozzarella Cheese, sliced or shredded and bake for an additional 25 minutes. When plating, first place a ladle of Marinara Sauce then top with Chicken Parmesan and garnish with freshly chopped Parsley and serve with a side of your favorite pasta and enjoy.