Shepherds Pie Recipe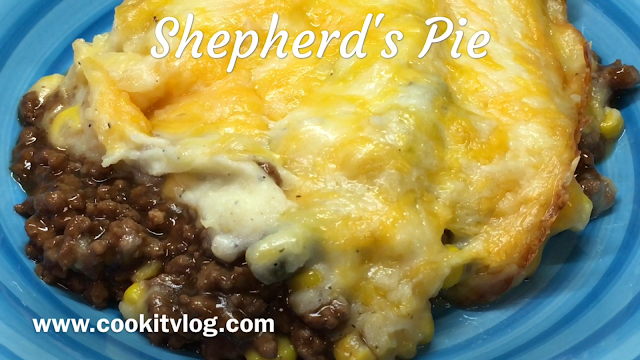 Shepherds Pie Recipe
Ingredients:
4

cups of mashed potatoes (use your favorite recipe or check out our Mashed Potato 101 Recipe https://www.cookitvlog.com/2017/10/buttery-mashed-potatoes-101.html )
15 oz can of Corn, drained
15 oz can of Green Beans, drained 
4 cups of shredded Cheddar Cheese
Directions:
Preheat oven to 350 degrees.
Spray a 13″ x 9″ baking dish and set aside. In deep skillet add Hamburger, Garlic Salt, Pepper, Salt and cook on medium – high heat breaking the meat up as it cooks
until browned. Drain Hamburger and return meat to skillet and add
Worchstershire Sauce, stir well. Add Brown Gravy, using homemade it time allows. Mix well. Add Hamburger and Gravy to baking dish and spread out evenly.  Next layer on half of the Corn then half of the Green Beans then add the remaining Corn and Green Beans. Add Mashed Potatoes and spread evenly. Top with Cheese and bake for 20 to 25 minutes or until cheese is completely melted.